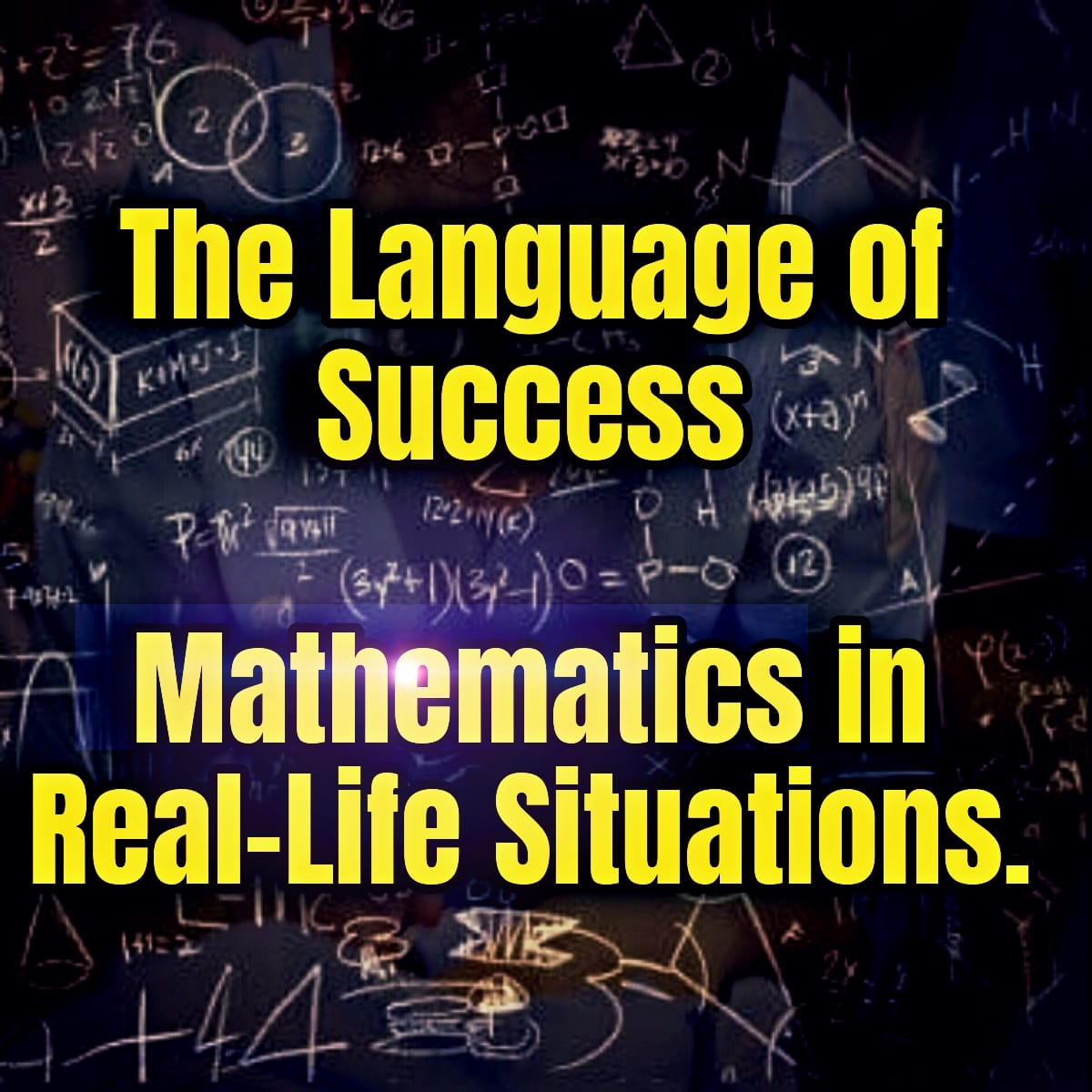 Mathematics is the backbone of modern Science & Technology, Finance, and the exciting fields of Artificial Intelligence (AI) and Machine Learning (ML).
Dive into the real-life applications of mathematics where it truly shines in these domains.
Finance and Economics
Engineering and Architecture
Computer Science
Robotics and Automation
ML & AI
Blockchain & Cryptography
Science and Research
Statistics
Telecommunications and Networking
Medicine and Healthcare
Market Research and Consumer Behavior
Data Analysis and Business Intelligence
Most of people find Mathematics boring and wonder why they should bother learning it.
They question its relevance to daily life and whether it's necessary for success.
In this article, we will explore various Real-life applications of mathematics that can help us understand its practical significance.
What is Mathematics?
Mathematics has no generally accepted definition, throughout history different mathematicians have offered diverse definitions of mathematics.
Here are a few notable interpretations:
Mathematics is the language in which God has written the universe.

Isaac Newton
"Mathematics is the science of patterns, and nature exploits just about all the patterns that there are."

Kurt Godel
"In mathematics, you don't understand things. You just get used to them."

John von Neumann
"Mathematics is not about numbers, equations, computations or algorithms: it is about understanding."

Paul Erdos
"Mathematics is the queen of the science and Number Theory is the queen of mathematics."

Carl Friedrich Gauss
"Mathematics is the art of giving same name to different things."

Henri Poincare
Real-life Applications of Mathematics:
Engineering and Technology
Mathematics plays a vital role in the fields of engineering as civil, mechanical, electrical, computer, and others.
It serves as a crucial tool for analysis, problem-solving, and designing innovative solutions.
It is used in Modelling and simulations, Quantitative Analysis, System Dynamics and Control, and Electrical Circuit Analysis.
Overall, mathematics provides engineers with the necessary tools and techniques to analyze, design, and optimize engineering systems across various disciplines.
Computer Science and Information Technology
The field of computer science does not exist without mathematics.
It underpins crucial aspects such as algorithms, data structure, cryptography, artificial intelligence, machine learning, computer graphics, and computer vision, all are standing on the principles of mathematics.
The Fast Fourier Transform (FFT) is just one of the numerous examples that demonstrate the indispensable role of mathematics in computer science.
Physics and Natural Sciences
We cannot imagine physics without mathematics as it serves as the language of physics.
To comprehend a subject, one must first learn the language in which it is expressed.
Mathematics forms the foundation of the theories and models used to comprehend the natural world.
It finds applications in various areas such as classical mechanics, quantum mechanics, electromagnetics, fluid dynamics, and more.
Cryptography and Data Security
Mathematics is essential in the fields of cryptography, ensuring secure communication and data protection.
Concepts like number theory, modular arithmetic, and prime factorization are used to develop encryption algorithms.
Medicine and Healthcare
Mathematics is applied in medical imaging technologies like MRI and CT scans, where algorithms are used to reconstruct images.
It is also used in other fields like modeling and analyzing biological systems, medical statistics, etc.
Telecommunications and networking
Concepts like coding theory, graph theory, and information theory are used for error detection and correction, network routing, and data compression.
Weather Forecasting
Mathematics is used to model weather patterns and climate change.
Differential equations, statistical methods, and numerical analysis are employed to predict and understand atmospheric conditions.
Finance and Economics
Finance and economics, the subjects that shape the world's economy, rely heavily on mathematics.
The principles and concepts of finance and economics, intertwined with mathematical frameworks, guide us in effectively managing our economy and fostering its strength.
Without mathematics, economic and financial models would be shrouded in darkness, as it serves as the essential foundation for their existence.
For example, in the popular theory of supply and demand, math allows economists to mathematically model the relationship between price and quantity, determine equilibrium points, and predict market outcomes.
Conclusion:
These are just a few examples; there is hardly any field where mathematics does not find utility.
To enhance our understanding of the world, it is crucial to possess a solid foundation in mathematics.
Instead of fearing it, embracing a love for mathematics is key to successful learning.
Why should we learn mathematics?
Mathematics offers numerous compelling reasons that make it an essential subject to learn, here are some of the key factors that highlight its significance:
Problem-solving skills
Critical thinking
Cognitive development
In short, Mathematics is indispensable for honing problem-solving skills, fostering critical thinking, and unveiling practical applications.
It enhances cognitive development, improves communication and decision-making skills, deepens our understanding of the world, and fuels personal growth.
Mathematics is not merely a subject to be studied but a powerful tool for navigating and excelling in various facets of life.
FAQ's
Why is mathematics important in everyday life?
Mathematics is important in everyday life because it helps us manage finances, make informed decisions, understand measurements and quantities, analyze data, solve problems, and improve logical thinking skills.
What are some real-life scenarios where mathematical skills are essential?
Mathematical skills are essential in scenarios such as budgeting, calculating discounts or taxes, measuring ingredients for cooking or baking, understanding mortgage or loan calculations, analyzing statistics for research or surveys, and even estimating travel distances or time.
How does mathematics contribute to problem-solving and critical-thinking skills?
Mathematics enhances problem-solving and critical thinking skills by teaching logical reasoning, pattern recognition, and analytical thinking.
It provides tools and techniques to approach complex problems systematically and find logical solutions.
In what fields is mathematics most commonly applied?
Mathematics is commonly applied in fields such as finance, engineering, computer science, science research, statistics, medicine, data analysis, and business intelligence.
How does mathematics help in personal finance?
Mathematics helps in personal finance by calculating budgets, interest rates, investments, loan repayments, and financial planning.
How is mathematics used in scientific research?
Mathematics is used in scientific research for modeling physical phenomena, analyzing experimental data, developing statistical models, and predicting outcomes.
What is the role of mathematics in data analysis?
Mathematics plays a vital role in data analysis by providing statistical techniques, regression models, probability theory, and algorithms for analyzing and interpreting data.